Electric bus training underway for Busways' mechanics as we work with TAFE NSW to guide course redesign
With six more electric buses due to arrive in Western Sydney from August, Busways is working with the vehicle manufacturer Custom Denning and TAFE NSW to build expertise and capability for mechanics to safely maintain our electric buses to the quality standards we set for our fleet.
Our Western Sydney mechanics are now trained to drive the Custom Denning Element electric bus, with a progressive training schedule planned, including introduction and refresher training, to build skills in safely servicing and inspecting componentry on a high voltage vehicle.
Busways is also engaging with TAFE NSW, the key organisation responsible for certifying mechanics in NSW, to provide input as they evolve courses to upskill mechanics to work on electric buses.
We recently invited Chris Greentree, TAFE NSW's Industry Lead for Automotive and Transport, to visit our Penrith depot for a first-hand look at our electric bus and charging infrastructure and to discuss required changes to training programs.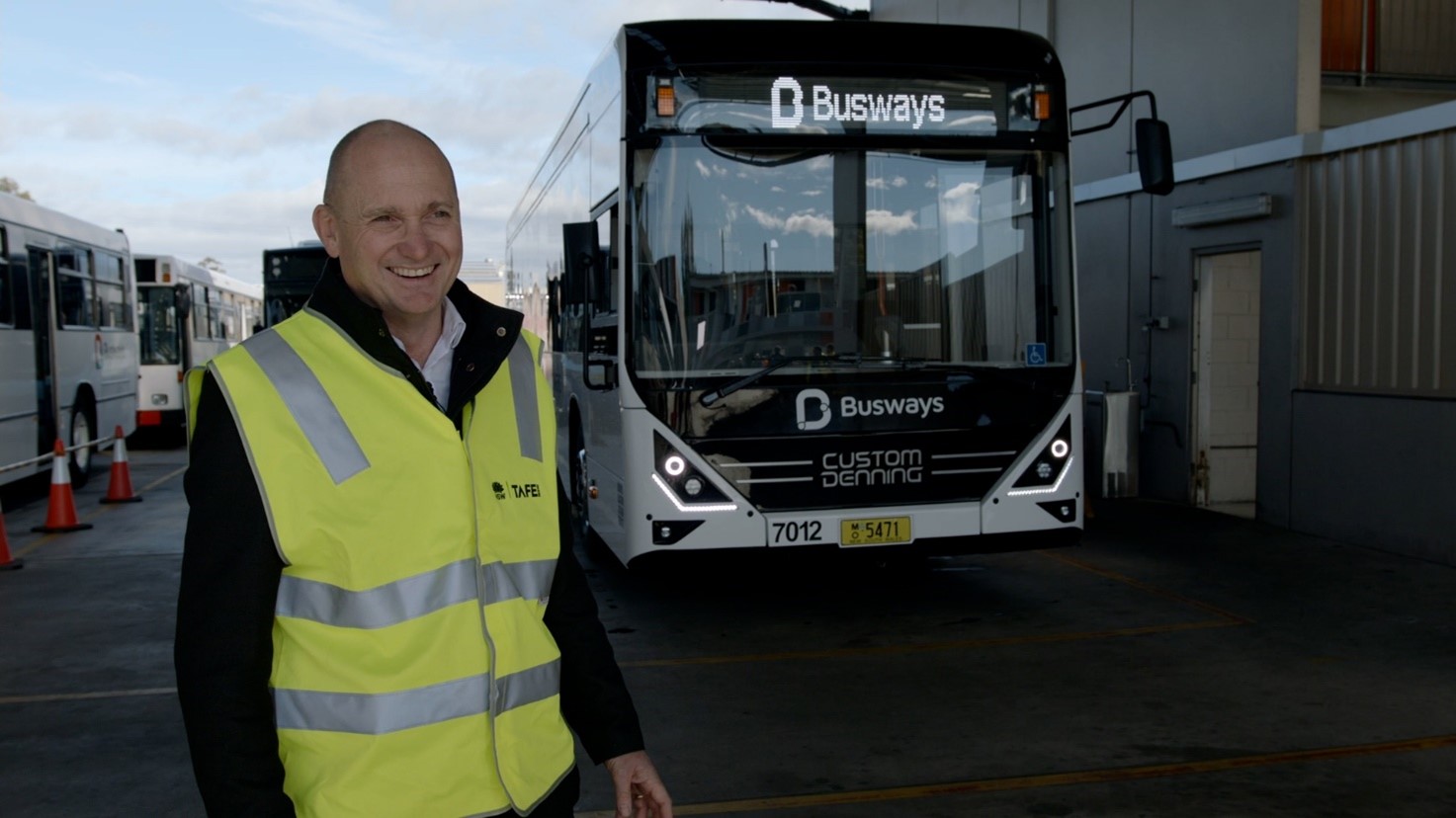 "It's a pretty exciting period we've got here," Mr Greentree said. "We've got existing workers that are working on buses and now we're going to ask them to work on electric buses. TAFE needs to upskill these workers so they can safely work around high voltage vehicles and get home to their kids and families."
"We're going to see around 8,000 buses in the Sydney metropolitan area replaced by electric buses in coming years – that equates to about 16,000 drivers, and 5,000 mechanics who need to be trained, not to mention a load of people involved in areas like charging buses, washing buses and working with them in the yard," Mr Greentree said.
"TAFE NSW needs to be engaged with industry to make sure we deliver products that are aligned to expectations and enable industry to do their job safely. We are moving on this exciting project that is electric buses, so it's great to have a first-hand look at the operations here at Busways."
"Coming out here to Busways today has given me a real hands-on and birds-eye view of [electric bus] operations and it's going to ensure that the training products we offer are really aligned to what the industry needs in the workplace."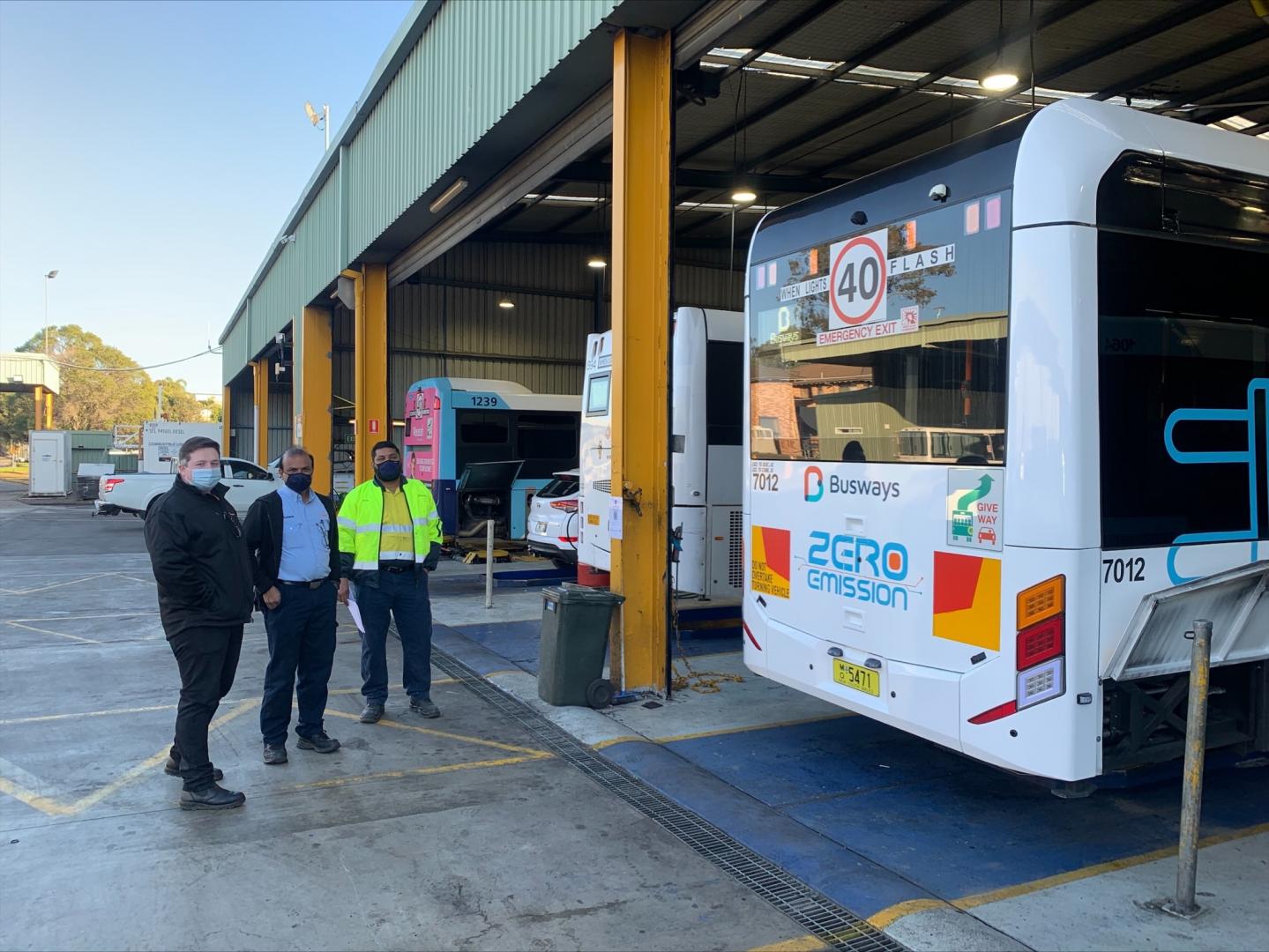 Tim Reid, Busways Innovation Project Manager, said: "It's good to be doing our bit to save the planet by moving to more sustainable fuel types, and our training programs are ensuring the safety of our team while we're doing it."
"Around 80 percent of electric bus components such as brakes and suspension are the same or similar to diesel buses. Our workshops team is being trained to safely maintain these components on the electric buses, while the manufacturer and OEMs will maintain the electric components such as the drive shaft until our mechanics are electric bus certified."
"Our Penrith mechanics were introduced to the vehicle and its components by Scott Dunn, the owner of Custom Denning, and they will provide more training for our Western Sydney mechanics when we take delivery of our new electric buses from August," Mr Reid said.
"When the electric bus course becomes available from TAFE NSW, we will start to train our Western Sydney mechanics ensuring they will be trained and certified to safely maintain electric buses," Mr Reid said.