New whale artwork promotes recognition of country for Central Coast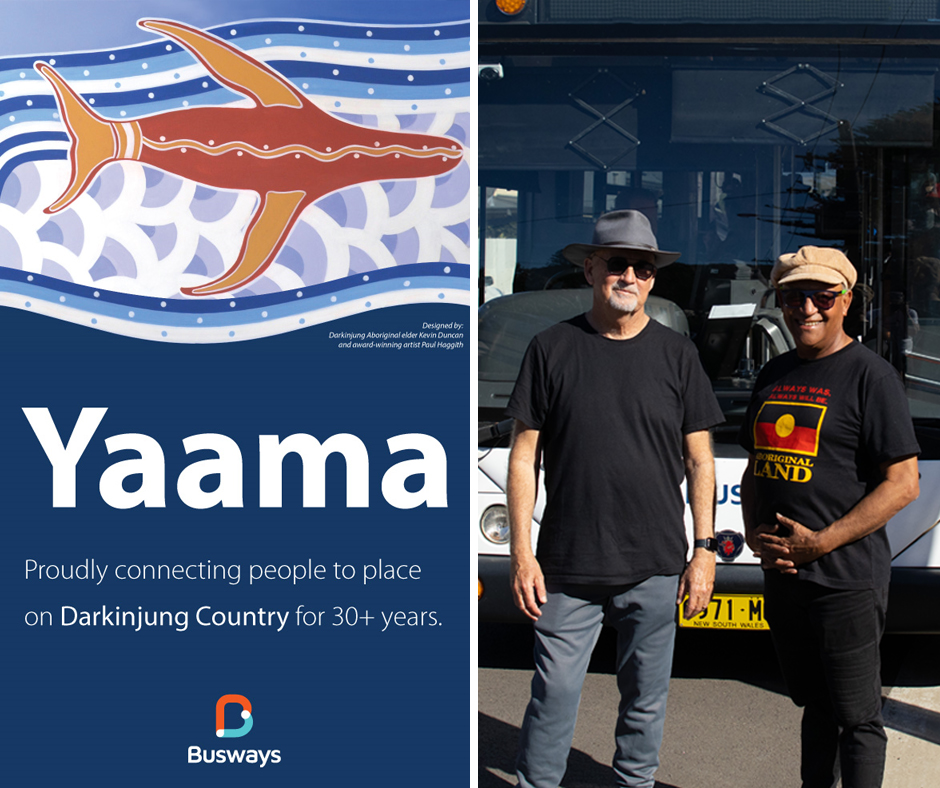 This NAIDOC Week, Busways is proud to unveil a new whale artwork that will appear prominently on the side of 11 Busways' Central Coast buses to recognise local First Nations country on which our services operate.
In celebration of Darkinjung culture, Busways teamed up with First Nations artist and Elder Kevin Duncan and award-winning contemporary artist Paul Haggith from the Central Coast, as well as the Darkinjung Local Aboriginal Land Council (DLALC) and 5 Lands Walk Aboriginal Committee, to promote reconciliation through the artwork.
"The whale is the totem of the Darkinjung people and symbolises migration. The colours represent the waves of the ocean – our connection to the sea. The dot pattern is over 60,000 years old," said First Nations Artist Kevin Duncan.
Phil Bligh, Cultural Advisor to DLALC and Vice President of 5 Lands Walk Aboriginal Committee said aboriginal societies are found in oral traditions.
"It was important to us to display the word 'Yaama' on Busways buses that operate on Darkinjung Country because language has the power to connect people meaningfully to land and place."
"The stand-alone word Yaama is used without explanation as it's already widely known on the Coast, and it opens the way for curious community members to find out the meaning."  
Central Coast contemporary artist Paul Haggith said it was a privilege to be able to collaborate on ancient images and help bring them forward in a contemporary light.
"It's wonderful to now see one of these images being used so extensively by Busways," Mr Haggith said.
Recently Busways launched the artwork on 11 Central Coast buses with positive community response.
Alanna Ward, Busways Head of Human Resources, and lead on Busways reconciliation journey, said Busways has a commitment and vision to create an inclusive and connected workplace and community where both First Nations peoples and the wider community feel a sense of pride and belonging.
"Busways operates thousands of bus services across metropolitan Sydney, regional NSW and Adelaide in South Australia," Ms Ward said.
"Our buses are a fantastic platform to promote recognition and reconciliation while creating respect, curiosity and mutual understanding, by installing signage developed collaboratively with our Local Aboriginal Land Councils, First Nations communities and Elders.
"First Nations culture varies within each individual First Nations country across Australia. This has been an exciting project on the Central Coast and we'll be working with Local Aboriginal Land Councils, First Nations communities and Elders in all our communities going forward to develop locally significant signage with local artists."
Busways has been proudly connecting people to place on Darkinjung Country for over 30 years. 
NAIDOC Week is held from 3 July to 10 July.