Busway welcomes new driver recruitment campaign
A new driver recruitment advertising campaign by the NSW Government has been announced at Busways' Ryde Depot by the Hon Jo Haylen, Minister for Transport NSW, and Bus Industry Taskforce chair John Lee.
Bus driver recruitment is crucially important for our industry, with workforce shortages impacting service delivery across Sydney.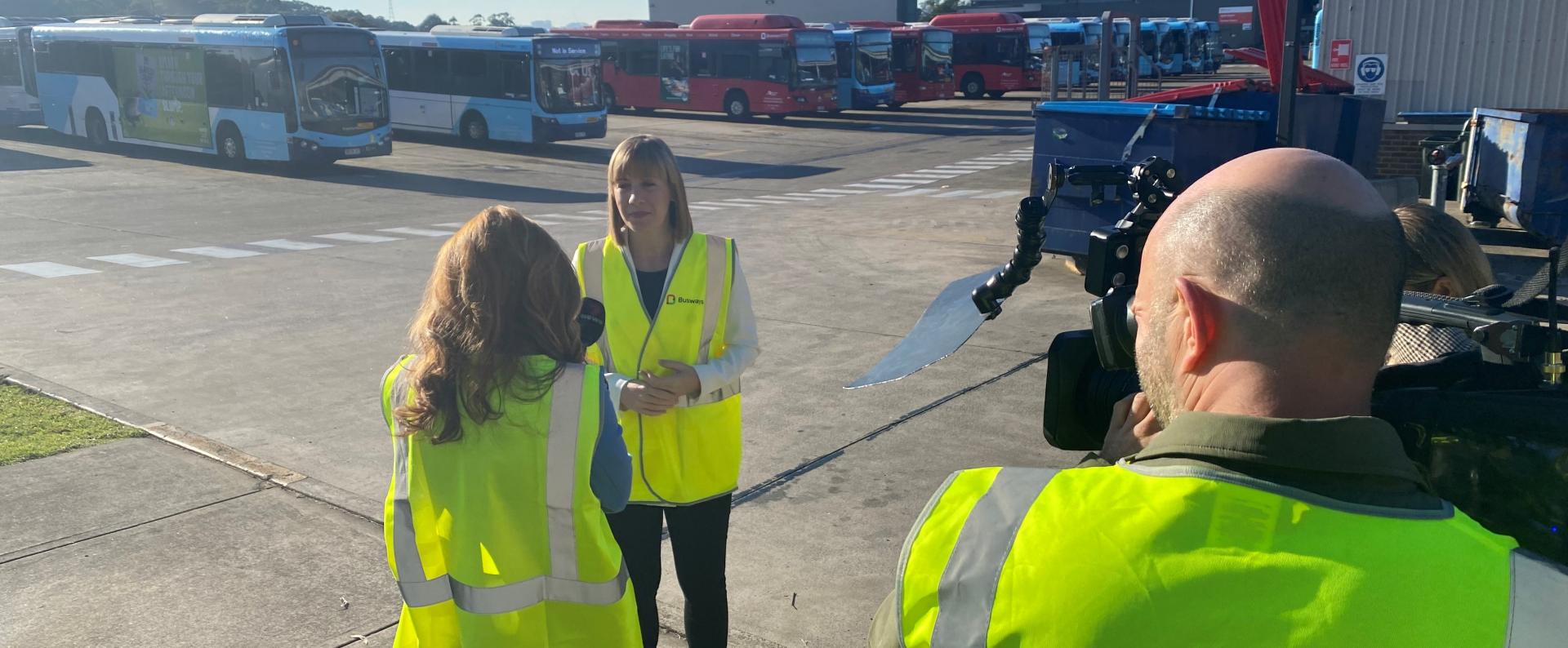 Mr Lee said operators were doing everything they can to recruit bus drivers – and applauded all bus operators, including Busways, on the way in which they are professionally training our new drivers.
He commented on the multifaceted nature bus driver training, "there is classroom work, one-on-one work with the driver trainer and the trainee, and post driver training out on the roads, familiarising the driver with the different routes."
Minister Haylen said the NSW Government's advertising campaign "is about getting the word out there and focusing on the areas of biggest need. [It] will hit the TV's, the radio's, social media, to get the word out there that we need more bus drivers."
The Minister learnt firsthand about the experiences of becoming a bus driver from two of our new recruits, John and Elnora, and observed our comprehensive recruitment and training process with our Busways driver training manager @James George and Ryde Depot Manager @Steve Bakous.
Prior to learning to drive a bus with Busways, Elnora was a lab technician and administrator. Elnora said it was easy to learn to drive a bus, and the hours suit her, as well as the stability it brings! She loves being out on the road instead of in an office.
John worked in a family business before becoming a bus driver. He wanted a career change, to be in a public facing role and to serve his community and decided on bus driving. John loves interacting with the passengers and putting a smile on their faces each shift!
Chris Wolf, Busways Chief Operating Officer said: "Our frontline people are the backbone keeping the community connected and we'd like to thank all our drivers and depot teams who've been working so hard to keep as much running as possible during this driver drought."
Having recruited over 70 drivers in the last six months, Busways will continue its efforts to bolster our driving workforce. Busways is currently offering sign on bonuses of up to $6,000 depending on experience for new Ryde and Willoughby Depot drivers. 
Become a bus driver for Busways
To apply or to learn more about becomign a bus driver at Busways:
Visit:         busdriver.au
Email:       driving@busways.com.au
Call:          driver recruitment team on (02) 9497 1800.