Our fourth quarter, time for a new look
Along with our new website, we're excited to unveil a new logo and brand identity for Busways.
Backed by 76+ years' experience providing bus services in NSW, Busways is still at the forefront of passenger transport innovation. We're still your local bus operator, but we're also testing transport for the future - leading an automated vehicle trial in regional NSW, operating on demand public transport and exploring new technologies such as zero-emission vehicles.
As we look to the future, setting bigger and clearer goals for our growth and success, it is time to revitalise the way we look.
Introducing Busways' new look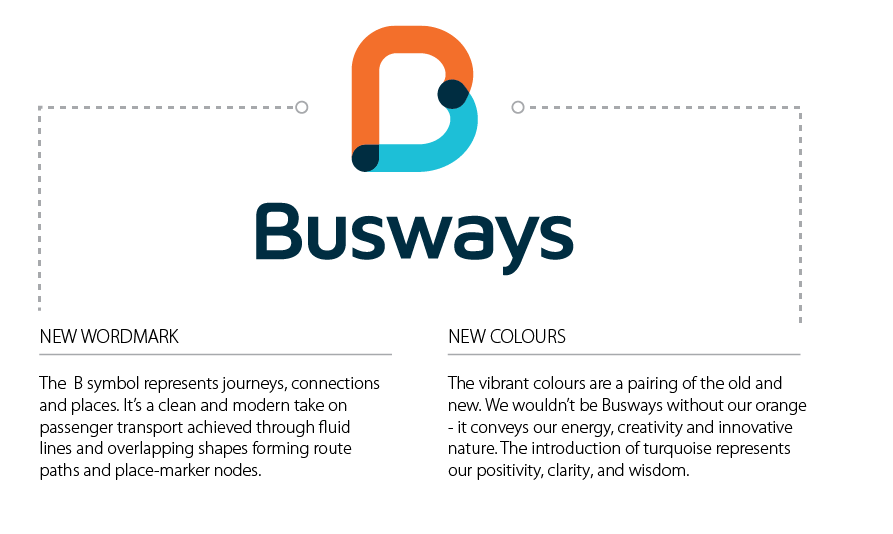 Our new logo is bold, dynamic and energetic. It communicates quality and credibility, and feels progressive and future focused.
It was important for us to capture all these qualities in our new look to reflect who we are and where we're going.
We are a world-class operator, committed to operating high quality passenger transport services the community can rely on.
We are an Australian family-owned company, providing a positive, caring work environment that encourages learning, growth and personal discovery.
We are a progressive partner, leveraging experience and a long term view to partner with government to lead the industry toward better quality passenger transportation.
That's a lot to wrap up in a logo, but we think we've done it. Our new look will gradually roll out across our business over the next 12 months.
As we phase out our old logo, we promise to stay committed to the high quality standards we have always held. Our priority has always been providing quality bus services for our customers – consistently reliable, safe, clean and comfortable. This will never change.