Busways testing more electric bus models in Coffs Harbour, Penrith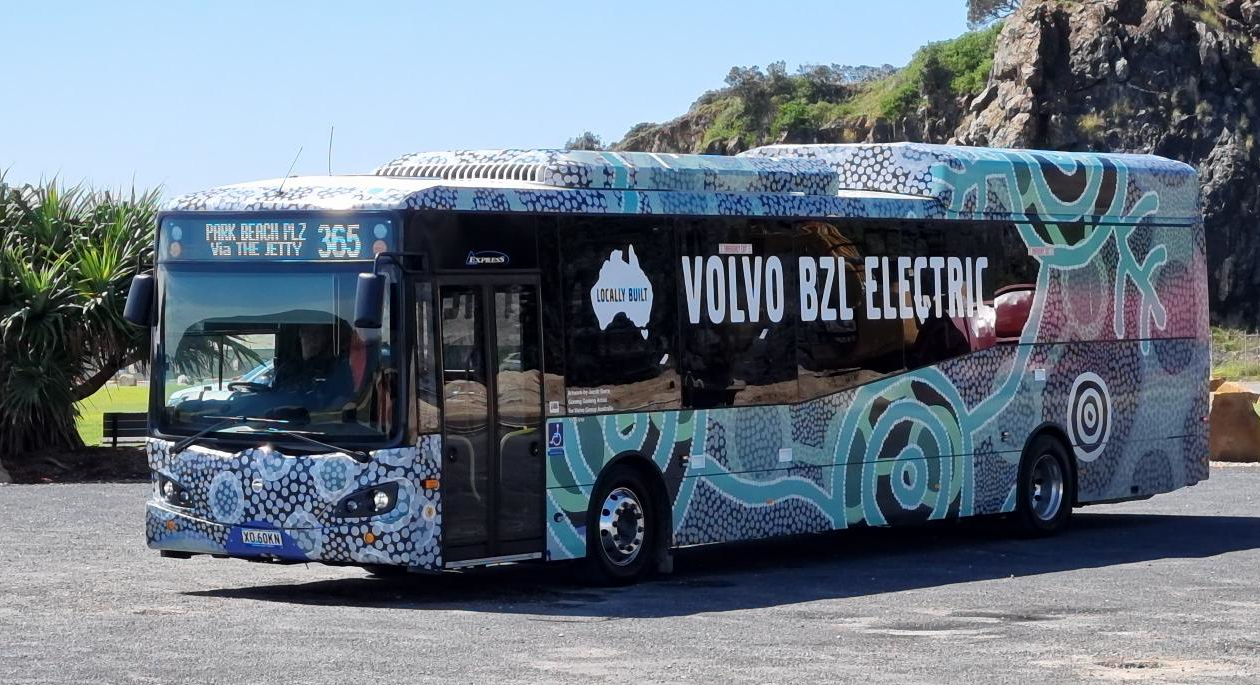 Busways is conducting its first test of a European model Zero Emissions Bus (ZEB) in Coffs Harbour from this week and is also testing a Chinese model in Penrith.
The testing of the Volvo and BYD vehicles follow Busways' procurement of the Australian made Custom Denning Element vehicles for Western Sydney in 2021 and 2022, and an earlier Busways trial of a Yutong E12 model in Coffs Harbour in 2021.
"It is an important part of Busways' zero emissions fleet transition strategy to test and benchmark different makes and models in Australian conditions, as electric bus technology is constantly evolving," said Chris Wolf, Busways Chief Operating Officer. 
"We are looking to evaluate different buses to assess which deliver a comfortable and reliable service whilst also offering good value for money over the whole life of the asset," Mr Wolf said.
Joe Kotevich, Busways' Zero Emission Bus and Innovation Manager explains that each bus has the ability to capture a wide range of data to help with assessing these factors.
"In addition to electricity consumption, we assess time taken to charge, demand from air conditioning, power regenerated through braking and more," Mr Kotevich said. "It is important to look at components such as suspension, doors, driveline, air conditioning, manufacturer support and additional training needed for drivers or maintenance teams."
In Coffs Harbour, Mr Kotevich said Busways was keen to see how a European engineered electric bus compares to other models in a regional environment.
"We will be testing the bus in summer conditions when higher aircon demand impacts power consumption," Mr Kotevich said. "We'll also see how it manages the terrain in and around the region, to help inform us how electric buses will integrate with the existing regional fleet as we transition to zero emission public transport."
Regional Transport and Roads Minister Sam Farraway said the NSW Liberal and Nationals Government is committed to transitioning its bus fleet to zero-emission technology as part of its strategy to deliver more energy efficient transport options.
"It's great to see local regional manufacturers participating in this test to deliver more sustainable buses for the community. The launch of this test is exciting because it comes as bus and coach operators are separately being invited to express interest in the NSW Liberal and Nationals Government's $25 million Regional Zero Emission Bus trials," Mr Farraway said.
Member for Coffs Harbour Gurmesh Singh said it was exciting to see Coffs Harbour as a testing ground for new technology.
"These kinds of tests help us learn more about what fit electric buses could have in the regions, particularly where longer distance routes are more common than in metro areas. Feedback from operators like Busways who run ZEBs in metropolitan areas is critical to landing the right technological solutions for the regions," Mr Singh said.
"We're going to see this electric bus operate on different routes and school services Monday to Friday, providing many Busways drivers with important electric bus education."
Zero emissions buses (even those powered from the grid) have lower energy consumption than traditional diesel buses, resulting in a quieter, smoother experience for customers and better air quality for the community.
Busways is the largest wholly Australian-owned bus operator, delivering school and route bus services for 80 years. It has 2,600 employees and operates a fleet of 1,350 buses across 20 depots in NSW and South Australia, including 277 buses on the NSW mid north coast.