Belinda named BusNSW Metropolitan Driver of the Year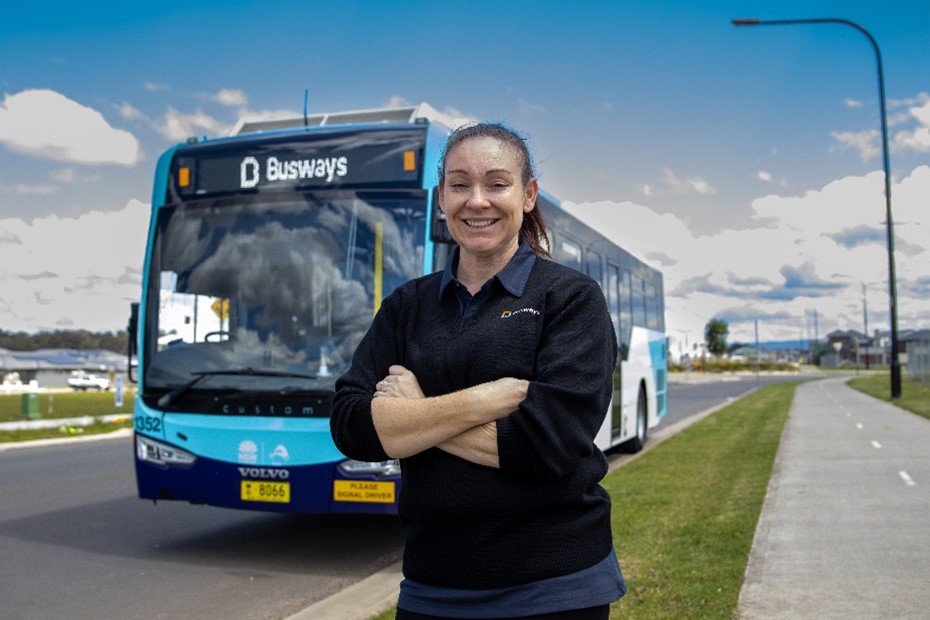 Busways congratulates Belinda Guillard for being awarded 2022 BusNSW Metropolitan Driver of the Year!
Belinda was named joint winner of the award at the opening of the 2022 Sydney Bus and Coach Expo today.
Busways Managing Director, Byron Rowe, congratulated Belinda saying she exemplifies the qualities Busways looks for in an excellent bus driver.
"Belinda demonstrates a diligent work ethic, a commitment to safe and smooth driving, and thoughtfulness for customers, regularly going above and beyond, and receiving positive feedback," Mr Rowe said.
"That kind of customer service is so important out on the road where our drivers are the main interface with customers, delivering the safe, comfortable and welcoming services the public rely on," he said.
"She's also a great team player with a keen desire to help her fellow drivers and a track record for being extremely reliable.  Belinda often makes herself available when called on for shifts at short notice, a big help to her depot team," Mr Rowe added.
A bus driver since 2011, Belinda said it was "really a surprise" to be selected from thousands of drivers across Sydney for the Award and made her proud to be a bus driver.
"There are a lot of deserving drivers out there who do a fantastic job day in day out, so it's quite special to be recognised," Belinda said humbly.
"Being a bus driver is a great job! I have met lots of people over the years and I love driving. The area where I work in western Sydney has a lot of different cultures and the people you get to meet are absolutely great!
"I like working for Busways as they are an equal opportunity company. They like to give employees the opportunity to work in different areas of the company and develop your skills working in different roles."
BusNSW Executive Director, Matt Threlkeld, said that the "Bus Driver of the Year" Awards were established in 2006 to recognise individuals for their outstanding contribution to the NSW Bus and Coach Industry.
"The winners of these awards have a proven record for being exceptional drivers, making a difference to the lives of the people they carry, and are well respected within their organisations," Threlkeld said.
Nominees for the awards need to fulfil criteria which includes exhibiting a positive and cooperative attitude towards their job, assisting passengers and other staff members, and having a high standard of personal presentation, he said.
"In addition to greeting passengers in a polite and friendly manner, we also look for drivers who have a safe driving record and are courteous to other drivers on the road," Threlkeld said.
Belinda was presented with her trophy by The Hon. Sam Farraway, Minister for Regional Transport and Roads, Rob Sharp the Transport for NSW Secretary, and BusNSW President, John King.
Due to the 2021 Bus Driver of the Year Awards being postponed because of the COVID pandemic, two winners in each of the three categories of Metropolitan, Regional and Coach Driver of the Year.